Customer portal for quotes, orders and service requests
Enable new sales and customer service channels through a branded customer portal with quotation, ordering and servicing capabilities
With our Customer Portal module your organization becomes fully digital. Customers will now easily submit their sales order requests and raise service questions through a modern web-portal branded with your organization's colors and logo
Portal for Sales
Enable new sales channel through a branded customer portal. Configure products and order forms in a few minutes and you are ready to sell more.
Portal for Servicing
Let your customers raise service tickets and view the status of ongoing tickets.
Communicate to customer
Raise queries to your customers when additional information is required. They will receive notifications and will be able to follow up on your requests.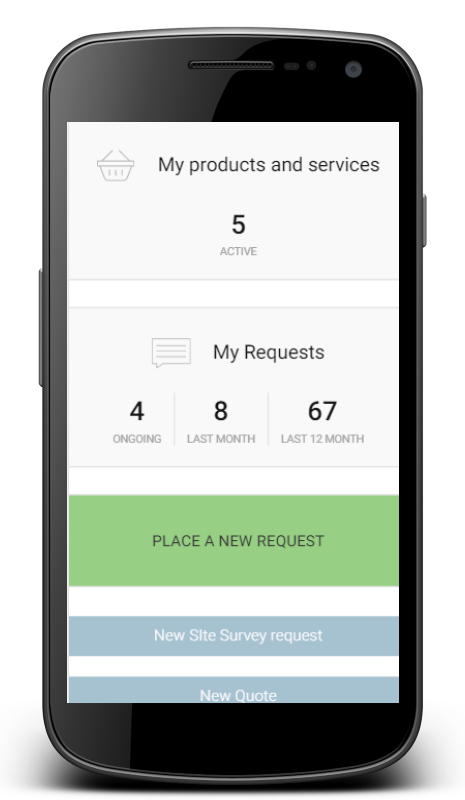 Automated notifications for customers and your staff
Let your customers and your staff be informed of any step of the process: from submitting order requests to each step through to the end.
Automatically trigger internal processes
Once customer places a request ProcessMate may initiate a workflow by back-office with all information provided by the customer.
Status of order at any time
Let customers follow up on their orders and view their statuses.
Sales & quotation portal for your clients
Ability to sell digitally is important for both your B2B and Consumer clients. ProcessMate is equipped with a fully features sales portal, which can be configured to accept orders directly or via a quotation request process, depending on the needs of your business. Your clients would conveniently pick products from your catalog into a basket, specify necessary information, uploaded requested document. The quotation process (if needed) follows a typical internal approval and client's acceptance procedures, with the extra advantage of introducing a flow of tasks that your users and customers are advised to follow. This adds control and visibility for each task of every order or quote.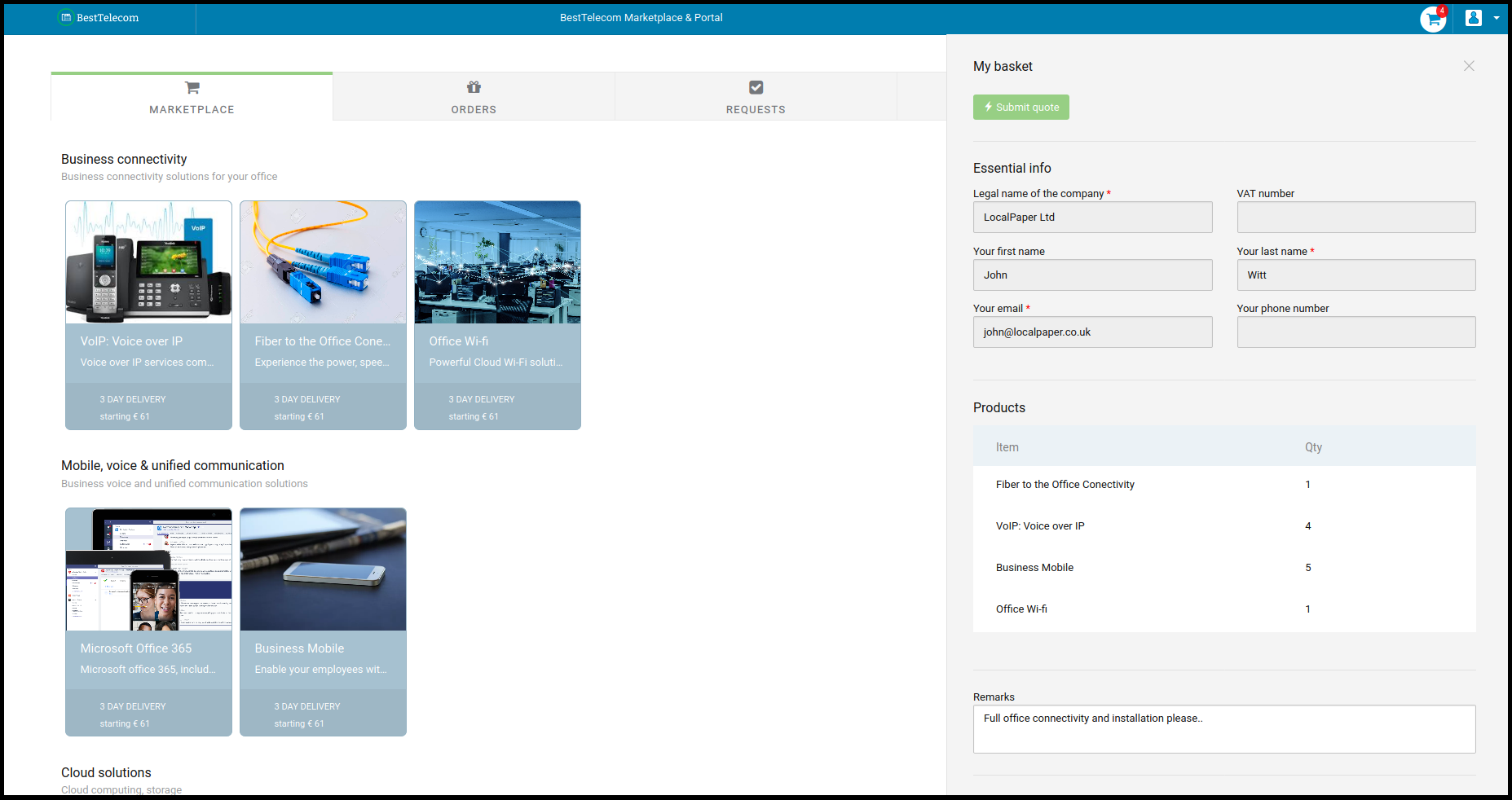 Quotation & orders
In many B2B and some B2C businesses, quotation process is a prerequisite of a successful sale. Running a quotation processes fast, making least mistakes, being responsive to clients and ensuring a quick turn-around time will boost revenue of any organization.
ProcessMate will establish your presence online, will allow your potential clients submit quote requests, based on your specific catalog of products and services.
On top of that, ProcessMate will turn every quote request and order into a process flow for your sales & delivery team. In the back office, everybody will know what to do next for each order, while clients will get timely notifications and increased visibility.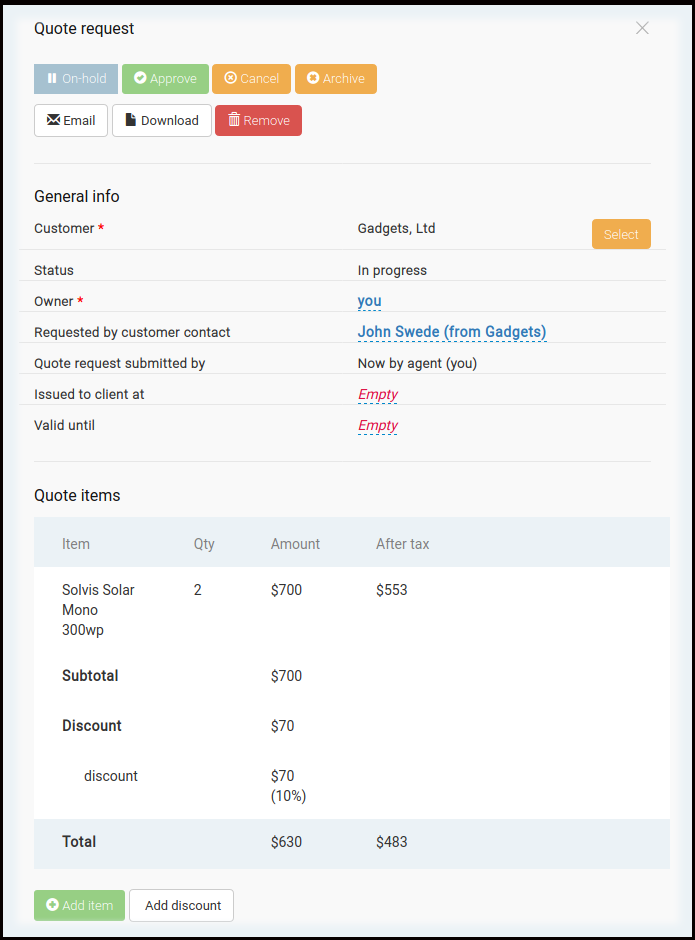 Customers manages orders and requests
The portal is focused on allowing end-customers submitting requests for products or services. Users may be suggested to fill in particular information specific to a request type. For example, for requesting a quotation for construction work, an end-customer may have to specify data specific to construction, as well as to upload a floor plan as a file.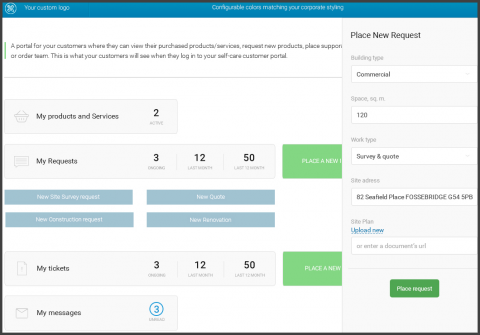 Viewing all current requests and their progress
All requests will be tracked in the platform and end-customers may login later and see the progress of such requests, as well as the details provided earlier. They might also request cancellation of a previously posted request.
End customers may also choose to be notified of the progress or status change of their ongoing requests.