Workflows and Customer portal in cloud

Organize processes and tasks, build customer portals for sales and servicing
Quotation and Ordering
ProcessMate is a cloud software that helps keep track of quotation and ordering. It comes with a sales desktop for your employees, as well as with the Customer (client) Portal where your client may request quotation, place orders and service requests. The portal is easy to configure and apply branding of your organization.
Process & Task Management
With ProcessMate you can manage processes & tasks, related documents, process-related information and manage team communication. ProcessMate helps manage both ad-hoc and regular tasks that run on schedule. The platform will keep track and notify users, build reports for managers and help you streamline your business.
Customer ordering & self-care portal
Open up new channels of communications with your customers, let them submit purchase and servicing requests, view their ongoing requests and optionally, trigger internal processes once your customer submits a requests. Customer will be able to provide all necessary information in their requests, such as type of product and quantity, through custom-designed forms. They may also be notified of the progress made.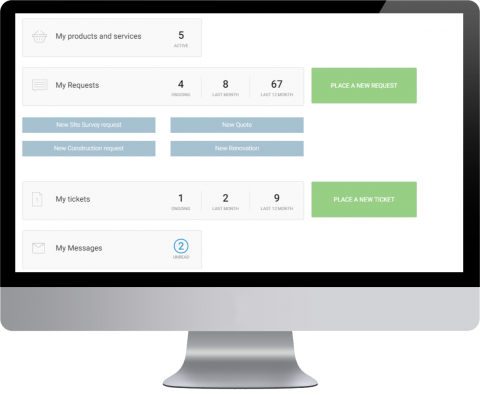 Process information and documents
ProcessMate is much more than just a workflow management solution: it will also manage your process documents, communication, as well as your custom data objects, such as customers, equipment or real-estate. Just configure your own objects and attach processes to them. Moreover, the custom forms mechanism allows easily customize input expected from user at each task.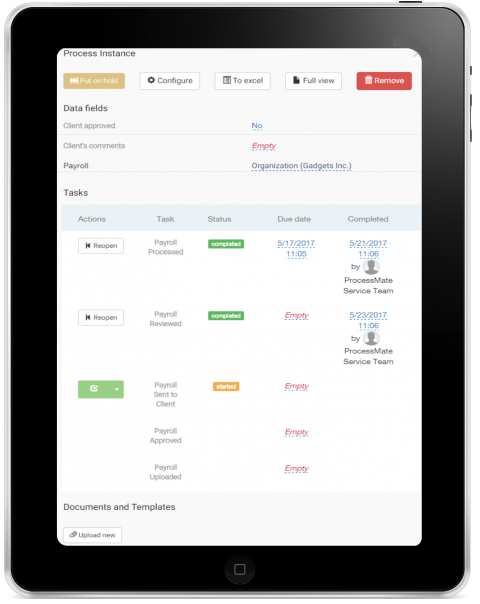 Workflow and task manager
ProcessMate has a comprehensive workflow and task management engine, capable of tracking simple sequential processes, as well as complex parallel process branches, or non-ordered check-lists. Users are assigned to tasks, see them in their to-do lists and are regularly notified of pending tasks. When tasks run late ProcessMate notifies users of delays. Managers have an up-to-date view on all processes happening, as well as performance statistics based on the past track record.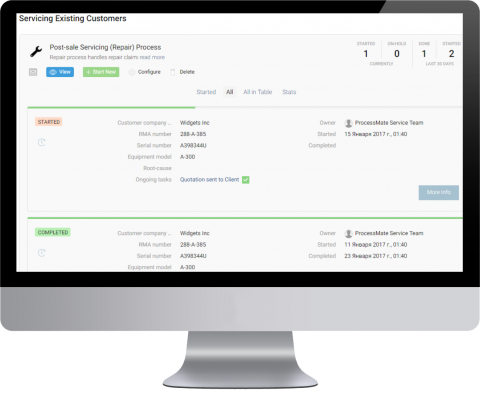 Turn-key solution
If required, we will provide you with the turn-key solution configured based on your requirements end-to-end. You will get a solution 100% ready to use in 2 days.
100% Cloud
100% web-based cloud solution, no installations or downloads required. This means the deployment in a matter of seconds, and availability from anywhere on earth as long as you have internet.
Quick and easy configuration
Easily configure and track your workflows with no specific IT skills required and consultants involved. Configuration will take minutes and you can start managing your processes today
Low Cost
The fixed low montly fee makes it affordable to business of any size and budget. You may start with just 1 user and expand as you business grows.
Explore ready-to-use ProcessMate solutions for various industries such as Accounting, Telecoms, Manufacturing, General ordering and others
Industry solutions
Workflow management
$5 / per user per month (for large accounts)
(for small accounts < 5 users: $25 per user per month)
Unlimited processes
Includes data objects
1Gb of document storage per user
Talk to our sales
Customer Portal
Talk to our sales
Customer Ordering Portal
Customer Trouble-ticketing Portal
Turn-key Solution
Talk to our sales