Workflow and task management
Track and improve your process through an easy web-based ProcessMate cloud app
ProcessMate is a cloud software that helps keep track of processes, manage related documents, related data and communication, and provides on-time notifications that help minimize delays. For managers ProcessMate provides valuable insights on efficiency of processes in a visual form, such as gantt charts, reports and graphs. ProcessMate will help you optimize your business, reduce process lead-time and cut costs.
Task & workflow manager
All you typically expect from a powerful workflow engine: manage tasks, workflows and checklists in the easy-to-use, comprehensive and feature-rich cloud software.
Task delay management & notifications
Define time limits for your tasks and let ProcessMate carefully track any delays for you, send reminders to users and gather related process statistics
Manage process information & documents
Configure and manage complete information related to processes: customer info, users' comments, attached documents or any other custom data fields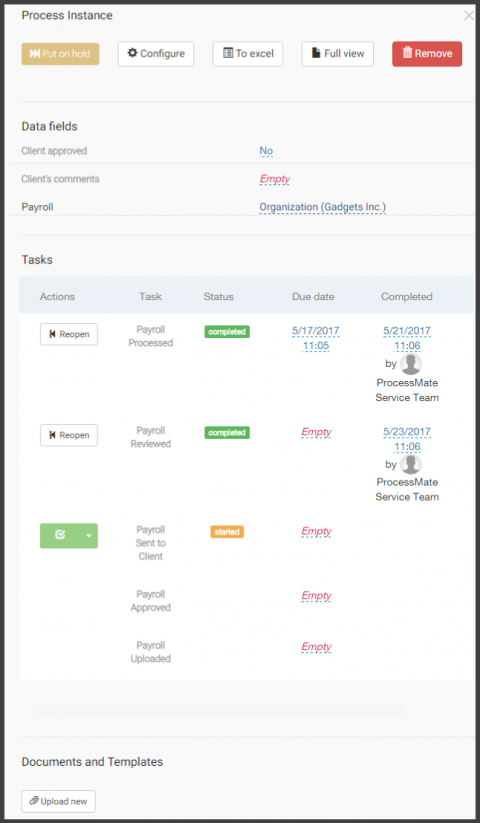 Comprehensive reports and dashboards
Use a set of pre-configured ready-to-use reports for understanding performance of your team, as well as current state of affairs.
Problem and exception management
Every process has exceptions. Provide users with a mechanism to inform managers and other users of problems they face so to reduce the waiting time.
Engage users through daily reports, email notifications and messaging
Users are always kept in the loop through instant email notifications of any progress made, as well as through daily and weekly reports. Users may communicate through messaging.
Task & workflow management
ProcessMate task & workflow management keeps track of milestones and their statuses completed as part of recurring processes. Processes lead users from start through a number of tasks to completion. Users see up-to-date status of each of the process, as well as the general status of the process – started, completed, not started, etc. All involved users are immediately notified of the new developments in the process, so no time is lost in communication.
Easy to configure
ProcessMate can be configured in a few minutes with a simple and comprehensive 3-step wizard for process configuration.
Simple workflows with sequential tasks
In a simplest scenario ProcessMate tracks simple sequential processes where tasks follow one another.
Simple Checklists
Another popular scenario is configure simple "checklist" processes where tasks may complete in any order with no relation to each other.
Complex parallel flows
Parallel tasks can also be easily configured which enables complex branching when required
Approval tasks, sub-tasks and regular tasks
Aside from regular tasks where users simply report completion, other types of tasks are available such as Approval tasks and Task with sub-tasks.
Custom forms for data entry
Forms is a feature for configuring and displaying customizable forms and fields at various stages of process. Fields may be combined in certain sequence and if needed, made mandatory to avoid situations where workflow proceeds without necessary information in place.
Auto-assignment of tasks, auto-skipping tasks
Various mechanisms may be enabled for automation, such as assigning tasks automatically, as well as "skipping" tasks when certain conditions are met.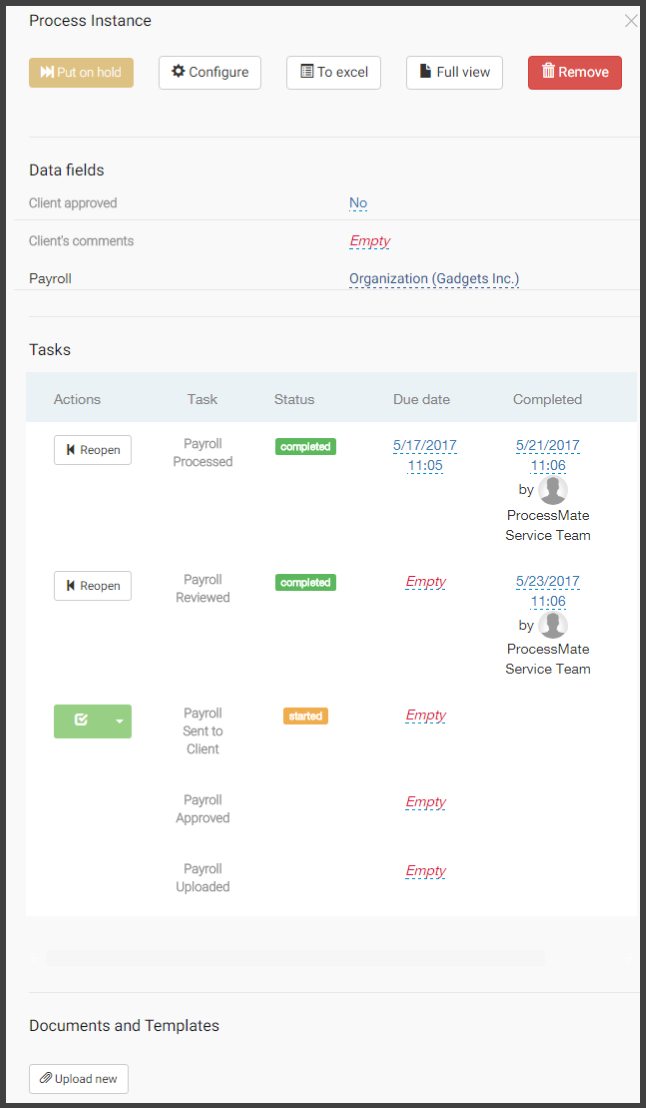 Task delay management & notifications
With ProcessMate users will be able to define time limits within which tasks have to be completed. For those tasks that breach this time limit, email notification will be sent out to involved users. In addition, those delays will be shown in a number of reports. ProcessMate also collects statistics of delays and has ready-to-use preconfigured reports showing these stats.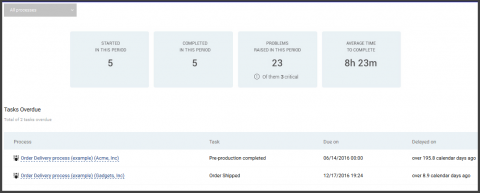 Comprehensive reports and dashboards
ProcessMate users can use pre-configured dashboards that display both process-specific information, such as bottlenecks, average time taken, as well as charts that show statistics across all types of processes. This reports do not require any configuration and are produced out-of-the-box, once the user configures a process (see below in the Process Modeling).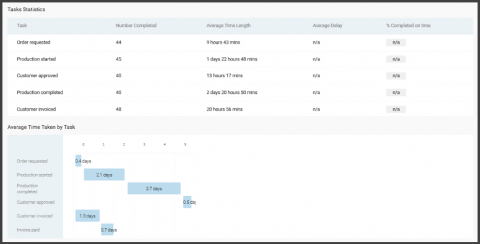 Managing process information & documents
ProcessMate manages in-process documents by allowing users attaching documents to processes. An example of such documentation is Invoice, Quotations or other documents in any format.
Another feature helps document information is Process Data Management, allowing keeping a database of such objects as Employee, Supplier, Customer and others and link your processes to these objects.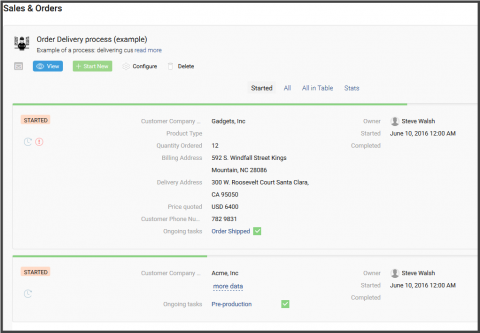 Daily reports, email notifications and in-process communication
Daily and weekly reports are an great way to keep users in the loop of the current tasks and recent progress made.
In-process messaging works well for communicating and knowledge exchange in the organization.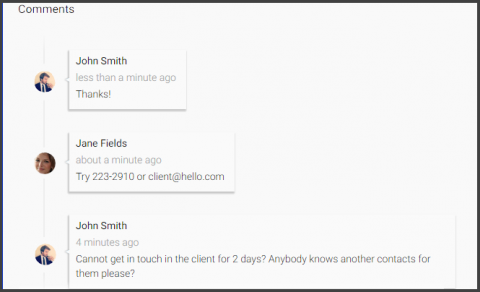 Problem and exception management
Allow your staff manage exceptions and problems happened in processes. Get notifications when problems are raised. See history of all problems raised for all processes.