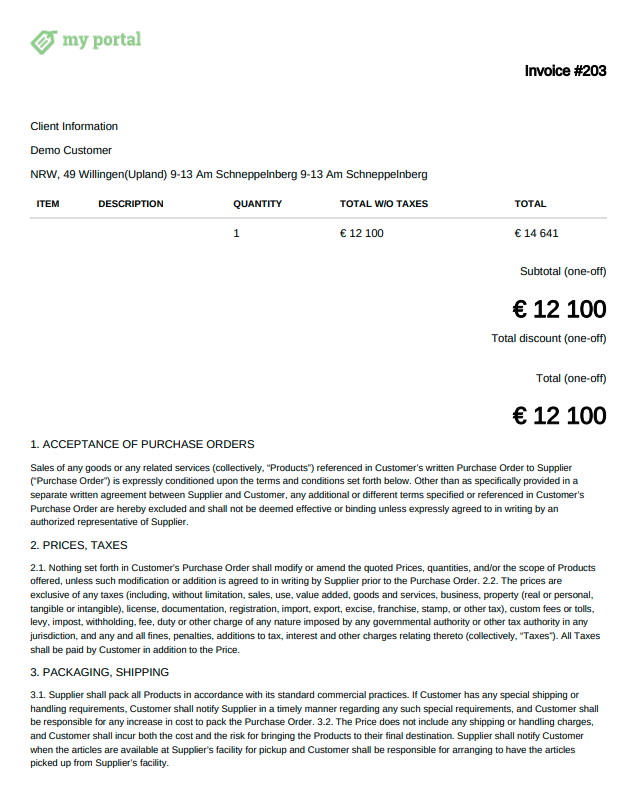 Customer Invoicing is a new module of ProcessMate for generation customer invoices for both product orders and recurring services, such as subscriptions. With this feature ProcessMate becomes a complete software solution for sales, ordering and invoicing, covering the entire sales and order fulfillment process.
One-off invoice for orders
The normal order fulfillment process now can (optionally) include generation of an invoice. A generated invoice includes every item of the placed order as well as information on taxes, total amount, terms and conditions. Based on the flexible configuration, the invoice is generated at a certain step of order fulfillment process or immediately after the order is submitted. The invoice can be emailed to customer automatically, if configured so.
The invoice can be generated based on certain template, branded to your organization and include logos, custom statements and T&amps;Cs .
Invoices generated periodically for subscription-based services
For subscription services, the platform can generate invoices on regular basis (monthly, quarterly, etc). For example, this can be regular maintenance services for maintenance, telecoms subscriptions or any other services that are billed periodically.
Accessing invoices via Customer Portal
The customer portal capability of ProcessMate lets customers access invoices via the customer portal feature. The customer (client) portal is a powerful feature of ProcessMate that can easily be configured to accept quote requests directly from clients, as well as orders, service requests and now, with this feature, view invoices. We are working now on introducing the payment capability for customers and agents.
Branding and customizing invoices
The invoices may be customized, in terms of the used colors, fonts, logo and most importantly, the content. So custom terms and conditions statements, as well as other remarks and fine print may be included. We currently work on the extension of this feature, whereby ProcessMate supports multiple templates for invoices.

ProcessMate is a
CPQ (configure-price-quote) software
,
customer portal
and
business process management
cloud software that offers a simple and yet powerful CPQ and customer portals that can be branded and configured to accept specific types of service requests, check on status and receive notifications by you and your customers.
ProcessMate offers an innovative approach to the sales includes:
The quotation process may be optionally implemented as one preceding the actual sales.
The quotation and the sales process are processes with distinct tasks for users. Those processes are configured based on the specific of your business with additional optional tasks, such as "site visits", "inventory check", "check with supplier" etc.
The tasks are assigned to own users (your employees) but some of them may be carried out in the customer portal by your clients' users directly. For example, your client users may initiate the quotation process by filling in the basket of the products of their choice, approve the offer once it is ready, etc. So, no quotation is lost and users always know what tasks are assigned to them.
View more at processmate.net/customer-portal/