Loan application & approval workflow software in cloud
Loan approval workflow: managing processes and tasks in the cloud software
ProcessMate is a cloud software managing processes through easy configuration that requires no IT skills and can be accomplished in a few minutes. The system requires no installation or hardware, it's in cloud so you can have it set up in minutes.
The generic Loan approval process is a workflow (set of tasks) that can provide a rich set of functionality to track and manage all tasks of the loan process starting from the moment when an application is submitted until the final decision. Since companies may have their own specific tasks and information, we propose this as generic workflow that can be tailored to the specific needs of your organization.
Track each step of workflow
ProcessMate enables tracking each step of the loan approval processes. From submission of a request by a client through risk evaluations and to the decision,ProcessMate will help keep track and organize workload of your staff.
Customize for specifics of your business
The process will follow a defined set of steps. Users may easily customize those steps based on the provided template or define a process from scratch. Similarly, data fields documented with the process, such as applicant's contact information, risk evaluation details may also be customized.
Track customers in the systems too, "attach" workflows to individual customers
Users may track customers in the platform too, and ProcessMate may relate loan approval processes to customers so users "attach" them to customer records. So each customer will have the full history of all loan applications tracked.
Track delays
Task delays and time execution are tracked and reported on. Users will know about the tasks overdue, while managers will receive notifications and view summary in the management reports.
Attach documents and manage process data
Documents may be attached to processes if required. Full information may be documented in the easily customizable set of data fields, such as applicant's address, amount requested, risk profile and any other.
Digest reports and email notifications
Users get notified of progress via email instantaneously. In addition, daily and weekly "digest reports" include all necessary details on progress, delays and pending tasks.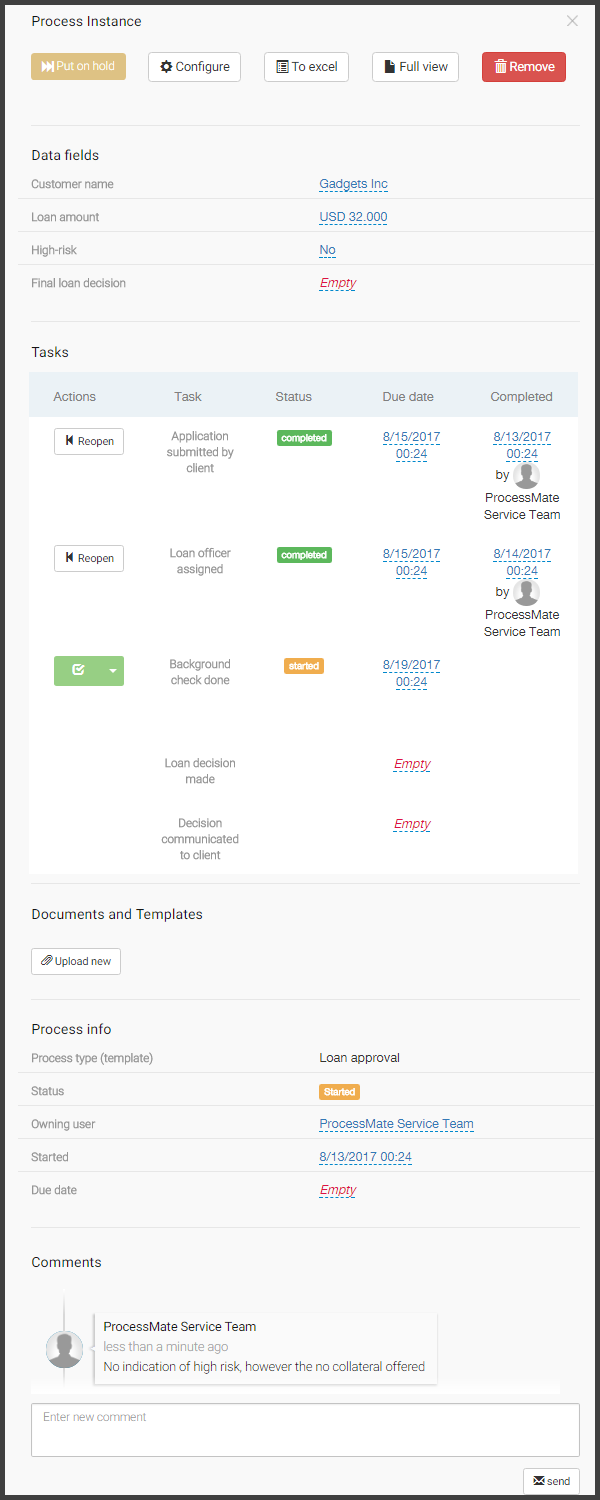 Keeping many parallel workflows and tasks in order
ProcessMate enables users and managers to view all process information in a consolidated report with all pertinent information, attached documents and status.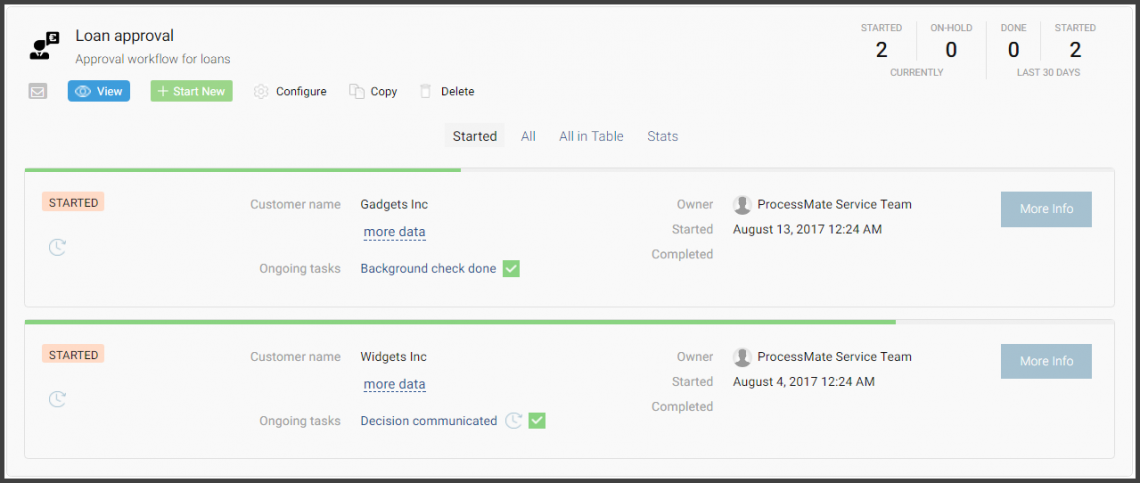 Tracking customers and other data
In addition to task management, ProcessMate will help keeping track of related data. For Loan approval processes it may be such data fields as "Applicants name", "Risk profile", etc. Documents may also be attached to every workflow.

Reports & Statistics
A number of reports are ready to use, offering a great insight on the general efficiency of operations of the company, as well as performance of individual employees