Payroll and Accounting: Managing Processes and Tasks
ProcessMate is a cloud software managing processes through easy configuration that requires no IT skills and can be accomplished in a few minutes. The system requires no installation or hardware, it's in cloud so you can have it set up in minutes.
One of the most popular solutions ProcessMate can easily deliver is Accounting and Payroll processes. Such processes can run based on a defined schedule, for example, once per month per week or quarter.
Track each step of workflow
ProcessMate enables tracking each step of the payroll and other accounting processes. For example this can be annual or quarterly submissions.
Customize for your business or individual clients
The process will follow a defined set of steps. Users may easily customize those steps. There may be a "generic" payroll process working for many customers, but for some individual customers the steps may be different to account for the customer's specifics.
Track customers in the systems too, "attach" payroll processes to individual customers
You may easily track customers in the systems as well, and ProcessMate may relate processes to customers so users "attach" processes to certain customer records
Track delays
Task delays and time execution may be tracked and reported on. Users will know about the tasks due, while managers will receive notifications and view summary in the management reports.
Attach documents and manage process data
Documents may be attached to processes if required. Full information may be documented in the easily customizable set of data fields.
Digest reports and email notifications
Users get notified of progress via email instantaneously. In addition, daily and weekly "digest reports" include all necessary details on progress, delays and pending tasks.
Initiate processes based on schedule automatically
Process may be scheduled to start automatically based on a certain schedule, such as monthly or weekly. This is especially useful for accounting processes such as payroll that run regularly.

Keeping many parallel workflows and tasks in order
ProcessMate enables users and managers to view all process information in a consolidated report with all pertinent information, attached documents and status.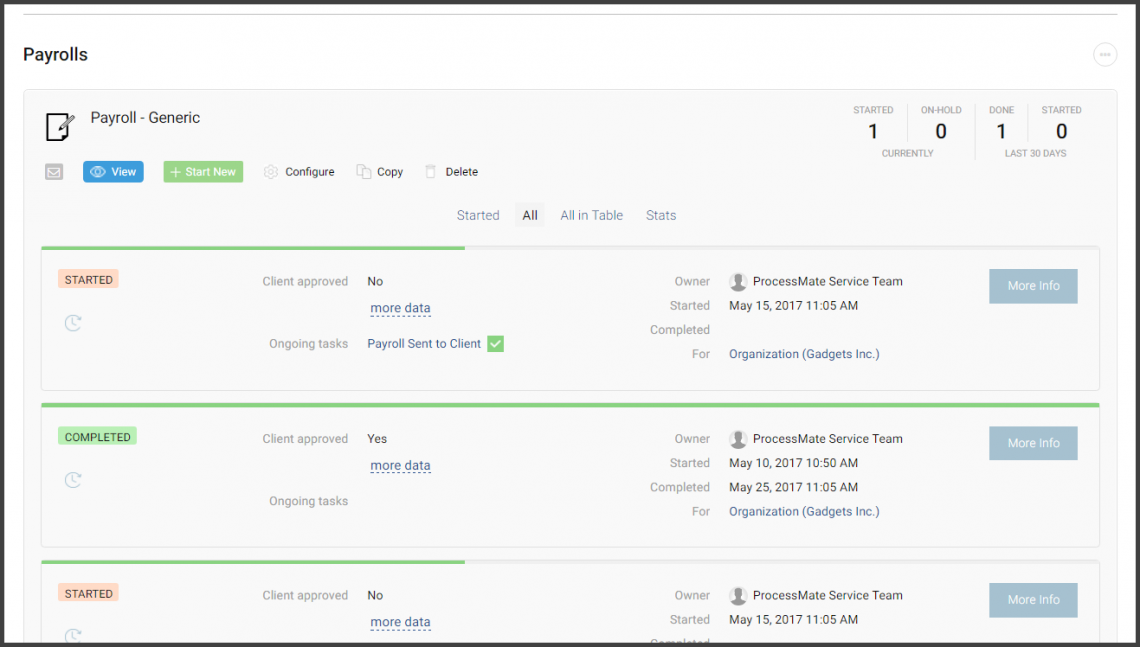 Process scheduling
In ProcessMate a process may be initiated manually in ad-hoc fashion and can be configured to start automatically based on a certain schedule. The processes for different customers may start on different schedules. Once process starts, its first task(s) are assigned, if the assignment rules have been configured and those tasks become active.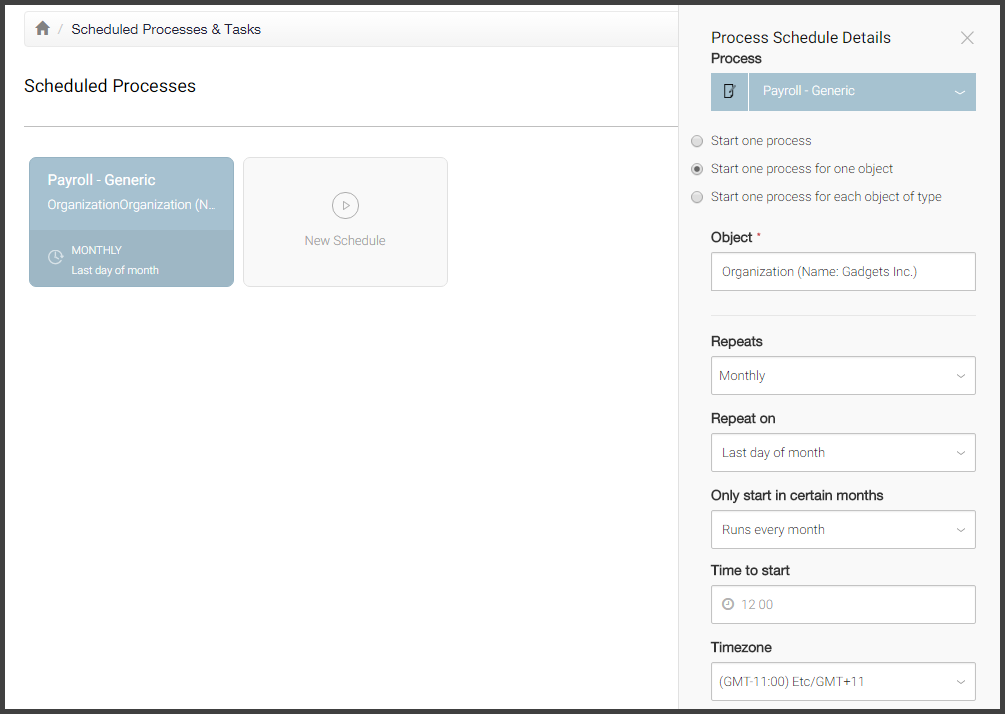 Tracking customers and other data
In addition to task management, ProcessMate will help keeping track of related data. For Payroll processes it may be such data fields as "Customer name", "Customer approval date", etc. Documents may also be attached to every workflow.

Reports & Statistics
A number of reports are ready to use, offering a great insight on the general efficiency of operations of the company, as well as performance of individual employees